Laser Hair Removal
Cutera Prowave Laser Treatments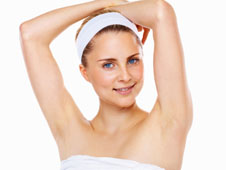 ProWave (770-1100 nm), combines unrivaled treatment speed with optimal results and safety. Maximum versatility is achieved multiple wavelength technology enabling treatment modes from Alexandrite to Diode to near Nd:YAG.
Clinical studies showed > 80% hair reduction six months post three treatments.
ProWave's versatility speaks for itself. Push button control automatically shifts the wavelength and pulse width tailoring the treatment to optimize hair removal efficacy.
Fast treatment speeds save time and money. Time for an average back is 15 minutes, full legs in 10 minutes.
No numbing cream is required — still another time-saver.
Scarless Mole Removal Services
Dr. Mir uses the Ellman Surgitron radiosurgical device, the most advanced radiosurgical device approved for operating room surgical procedures. When radiowaves are used instead of a scalpel or laser, only the skin cells immediately next to the wire electrode are affected. Radiosurgery is more delicate and precise than laser surgery which can cause excessive tissue burns. Scarring is minimized or eliminated with radiosurgery because the skin is vaporized instead of cut. Dr. Mir uses a radiosurgical loop to shave the mole down layer by layer to the level of the surrounding skin. No sutures required.
Your procedure can be performed at the time of your consultation visit. Dr. Mir has achieved excellent results on a variety of skin tones using this advanced technology.
To learn more about our Laser Procedures and what it can do for you, please call our office today to schedule a consultation.